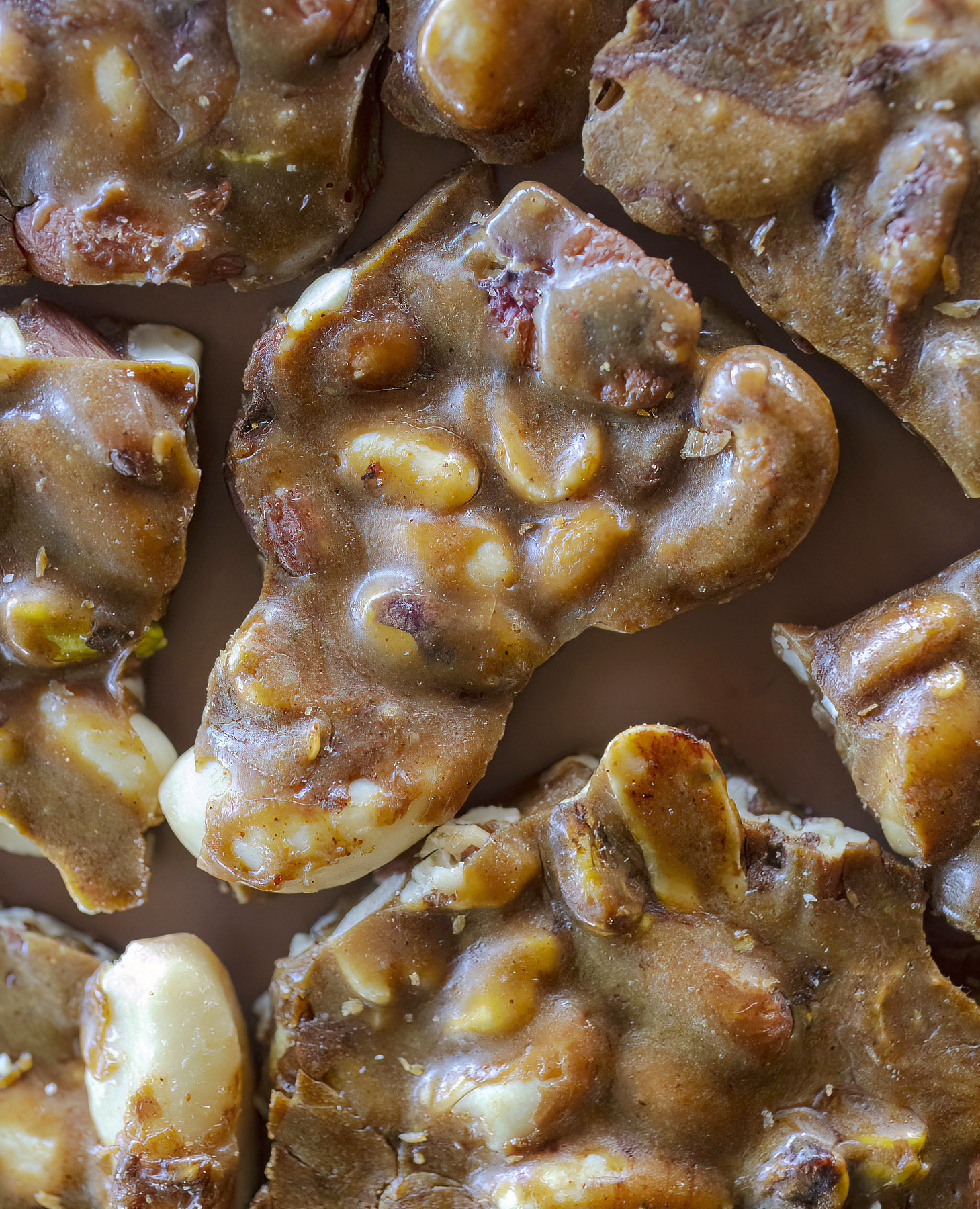 Sweet and Spicy Western Nut Brittle
Walnuts, hickory nuts, and hazelnuts are grown in Montana where the television series Yellowstone is set.
Ingredients
Butter cooking spray

6

Tbsp

butter

2

cups

light brown sugar

1/3

cup

clover honey

1/3

cup

water

1

tsp

cinnamon

1

tsp

red pepper flakes

1

tsp

ground black pepper

1

tsp

kosher salt

2

ounces

hazelnuts

2

ounces

hickory nuts

2

ounces

walnuts

2

ounces

pistachios

2

ounces

peanuts

1

ounce

Brazil nuts

1

ounce

cashew nuts

2½

tsp

baking soda

1

tsp

flakey sea salt
Instructions
Grease an 18-by-13-inch rimmed half-sheet baking pan with butter cooking spray.

Combine butter, brown sugar, honey and water in a deep saucepan or Dutch oven. Bring to a simmer over medium-low heat, stirring often to melt the butter and dissolve the sugar, about 3 to 4 minutes.

Attach a heat safe candy thermometer to the pan and continue stirring until temperature hits 300 degrees F (hard crack), about 6 to 8 minutes.

Turn off the heat and immediately stir in the nuts, cinnamon, red pepper flakes, black pepper, and salt. Then carefully stir in the baking soda which will cause the volume to swell and the caramel to become light and foamy.

Quickly pour the mixture onto the greased baking pan, spreading and smoothing it out as thinly as possible using a greased metal spatula. The candy is extremely hot but sets in about a minute, so you must work rapidly. Sprinkle with flakey salt. Let cool for about 20 to 30 minutes, then break into pieces before serving.
Notes
Jackie Alpers is the author of The Unofficial Yellowstone Cookbook: Recipes Inspired by the Dutton Family Ranch. Available wherever books are sold.